Arthritis And The Power Of Cinnamon And Honey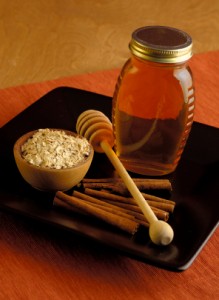 Sure, there are a lot of natural remedies out there for arthritis but few are as simple as putting honey and cinnamon in a glass of warm water and drinking it in the morning, on an empty stomach, if possible. Many people just wouldn't believe in this easy remedy but it works for many people who have the chronic pain and disability that arthritis causes.
Usually you use twice the amount of honey as you do cinnamon – for example two teaspoons of honey to one small one of cinnamon powder. Of course the warm water helps to dissolve the honey so stir well. The best cinnamon to use for this is from Ceylon and the better quality the honey, naturally the better it is for you. It would be great to try this out for say a month to see if your quality of life improves. If you don't like the taste, then use less water so you can swallow the drink in one or two gulps!
With regard to arthritis, it's very good if you simply take the drink every morning but you can use the paste described above to rub into particularly sore spots for pain relief.
Here are some other benefits:
This combination can help to improve your immune system as well as your digestive system. Bones, teeth, heart and hair quality can improve. Another benefit can be weight loss and it has been effective with irritation and itching.
As far as your digestive system is concerned, this mixture can help to alleviate stomach ache and regular indigestion as well as flatulence and gas. The bladder function can also be strengthened.
It can also be used if you have a cold or even the flu. Used on a regular basis it can help improve your stamina so you don't get so tired easily.
It can help reduce cholesterol and also hearing problems. Your skin can benefit if you use the ingredients as a paste – therefore only use a tiny amount of water. It's good for treating spots and other blemishes and minor skin problems and even insect bites.
It also helps to remove bad breath so taking it regularly, you never have to worry about this symptom again! It can also help with toothache and since both honey and cinnamon are usually a staple in a kitchen, it's an easy remedy to use if someone in your family suddenly has toothache. A great interim solution until a visit to the dentist is scheduled.
However, despite its many benefits, it can really help the millions of people in the world who suffer from the pain and debility that arthritis causes. So if you or a loved one has arthritis, give cinnamon and honey a try.
Now you can discover how Cinnamon And Honey For Arthritis works and how it can help you with pain relief if you have arthritis. For more resources visit http://arthritisreviews.com
Article Source: http://EzineArticles.com/?expert=Sandra_Fierling
http://EzineArticles.com/?Arthritis-And-The-Power-Of-Cinnamon-And-Honey&id=5844368